We encourage you to incorporate our Pilates Classes with our
Boom Fitness Programming.
This will assist you in Recovery, Mobility and
Strengthening your body even further.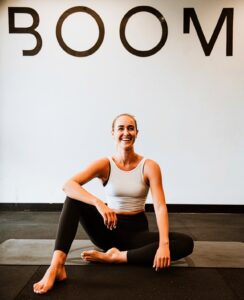 Movement will always be a huge part of who I am, and something that I am very passionate about.
Being an instructor has always been a vision & a given that I would become.
Encouraging people, and to live a life full of movement & wellness will forever be a top priority of mine. Now being able to share this passion with others & see them find the drive of their own to live well, is why I love instructing.
Pilates is something you can do for life. It is dynamic movements, which leaves you with an intense burn and work muscles you never knew you had! This is what I bring onto the mat. Everyone can do Pilates, and I can't wait to see you on the mat!
Pilates Power
Perfect for all levels – this mat Pilates class is designed to strengthen your core, sculpt and tone your full body. This class will get your heart up, and leave you will an intense burn during and even after class. As always there will be a range of modifications, at the same time the opportunity to progress further.
Pilates Flow
Stretch and lengthen your way through a series of mat Pilates movements, fused with yoga inspired flows. The pace of this class may be slow, but we are still working to improve flexibility and strength. Flow through this stretch series before or after a workout, this is just about you and your mat.
Boom Pilates Is the
for your fitness classes, or just because you'd like to feel great